Milk Supplier Login
If you are currently a Synlait supplier, use the button below to long onto your Madcap site and your Lead With Pride™ Live account.
Supplying Synlait
Welcome to Synlait's milk supplier section. Here you can find information about Lead With Pride™ our internationally accredited ISO/IEC 17065 dairy farm assurance system, and read up on why supplying Synlait is different.
Lead With Pride™ programme
Synlait's Lead With Pride™ programme recognises and financially rewards suppliers who achieve dairy farming best practice. It's transformational and guarantees the integrity of pure natural milk produced on certified dairy farms. This enables our world-leading health and nutrition customers to differentiate their products through having absolute integrity and superior quality milk, as well as being sustainably produced – critical in a competitive marketplace.
Supplier Benefits
Control your capital
There's no compulsory investment required in Synlait so you don't need to buy shares. This allows you to control your capital – investing it in your farm, another farm, herd, equipment, dairy sheds or anywhere you see fit. Because we're listed on the New Zealand Stock Exchange and the Australian Securities Exchange you can still have some skin in the game by buying shares if you want. Three of our largest shareholders are also our key infant formula customers – their investment demonstrates their commitment to a long-term partnership with us and we are proud to have our international customers on board in this capacity.
Recognition and reward
You can earn a premium over and above the base milk price through our Lead With Pride™ and Special Milk programmes. a2 Milk™ and Grass Fed™ are examples of Special Milks that are differentiated to add value to our customers and your bottom line. Lead With Pride™ is our certified best practice dairy farming programme that recognises suppliers for being environmentally conscious, socially aware as an employer and committed to the health and wellbeing of their cows and milk quality. A premium is paid for achieving Lead With Pride™ certification.
Not a number
We take pride in building relationships with our suppliers and our strength is knowing your name. You're not a number to us. Our dedicated team offer a personalised service, regularly visiting suppliers on-farm. Because many of our suppliers aren't shareholders, they're not tied to us. That means we have to work harder to keep them happy! We host an annual conference for our suppliers and customers; an event which is unique to the dairy industry and provides an opportunity to connect with Synlait staff, financial and rural professionals, and fellow suppliers. In addition, we host regular events and dinners throughout the year, celebrating our success and supporting our supplier network.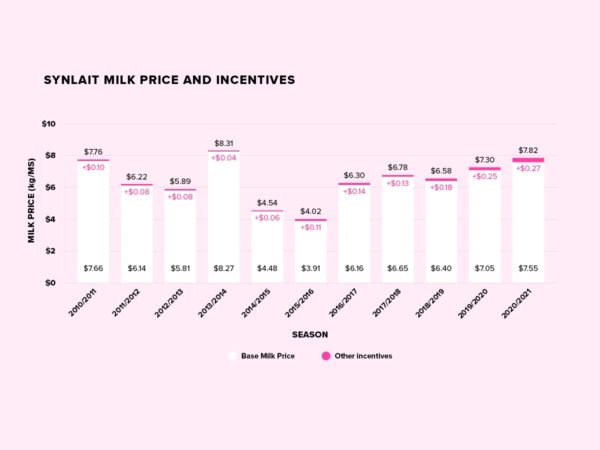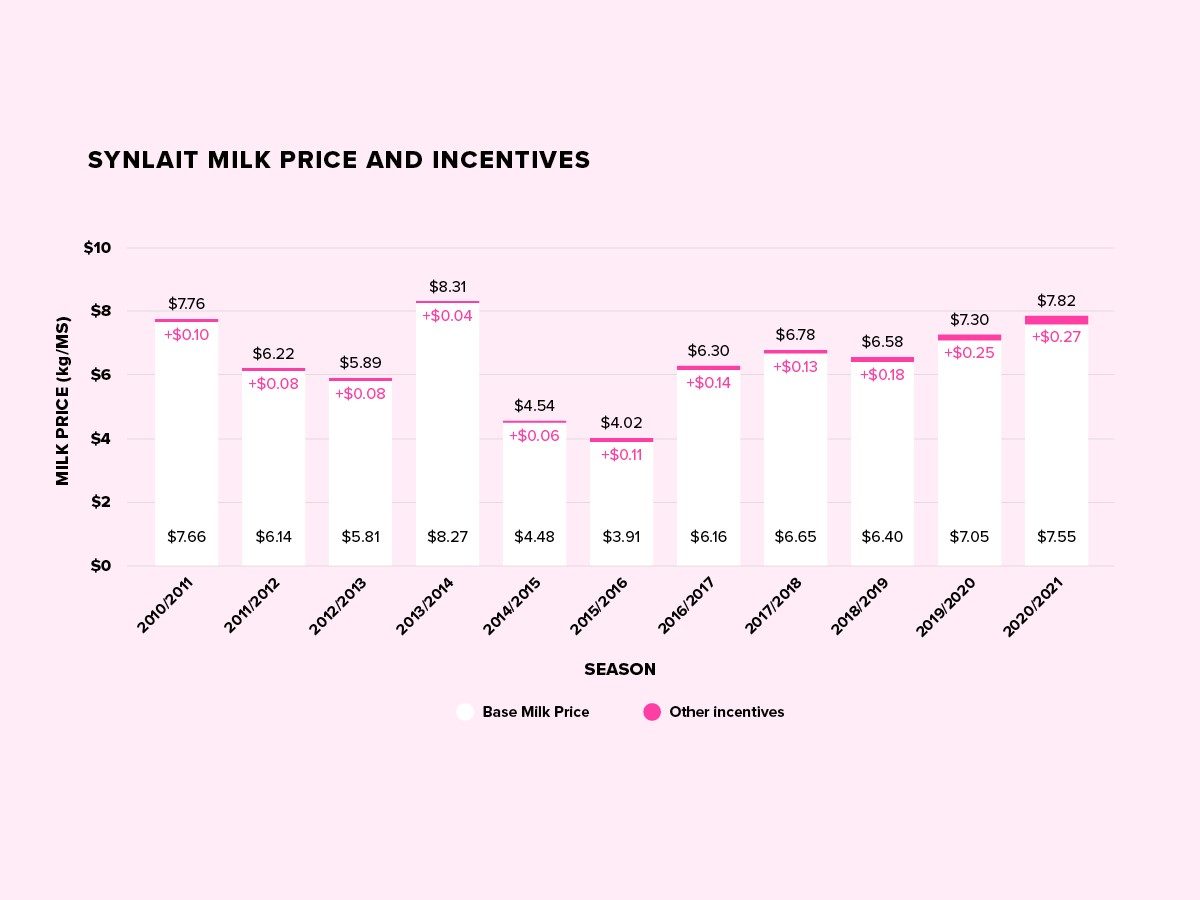 Click on the image to view a larger version.
×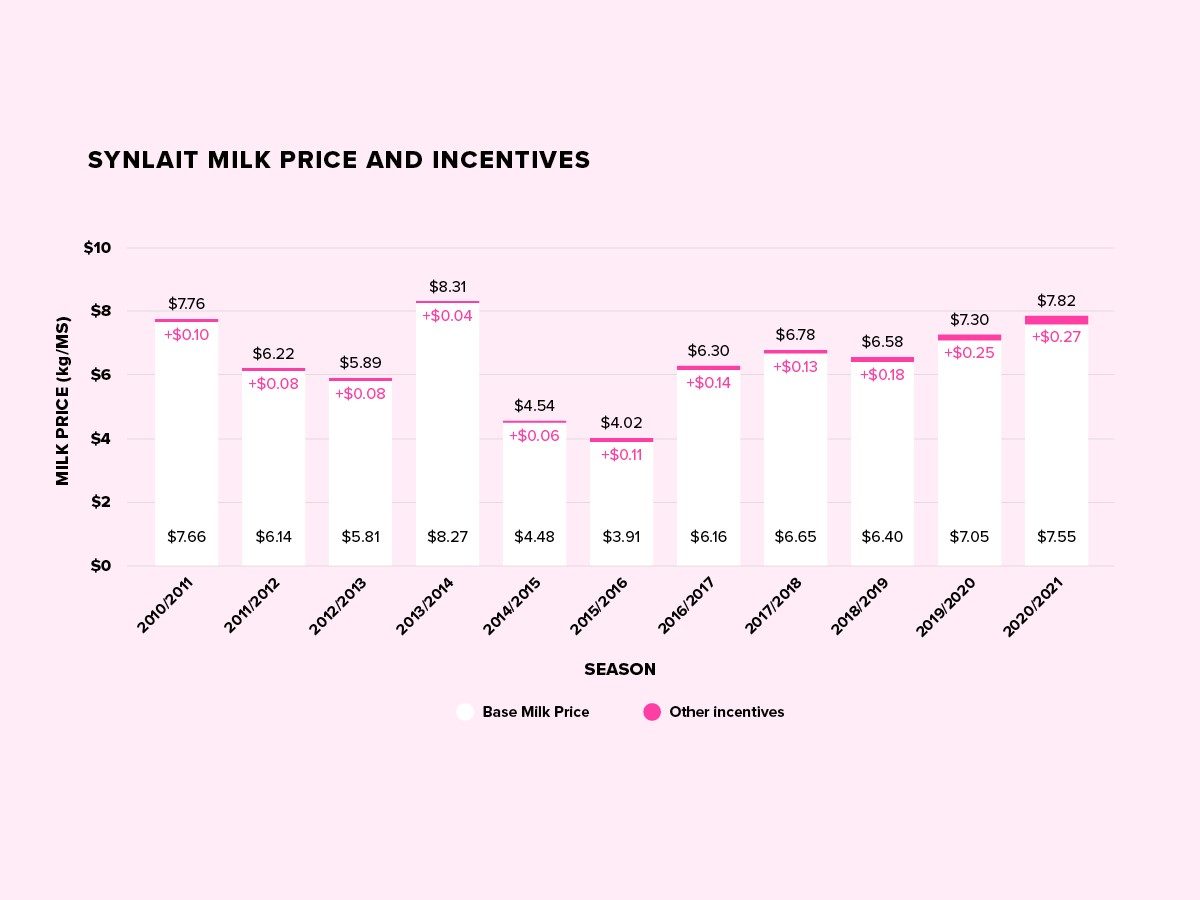 What we've paid our farmers
Synlait sets its own milk price, and works hard to ensure all farmers are better off with us.
Take a look at what we've paid over the past ten years.