10 November 2016
SYNLAIT REMOVES 360 CARS A WEEK FROM SH1 IN CANTERBURY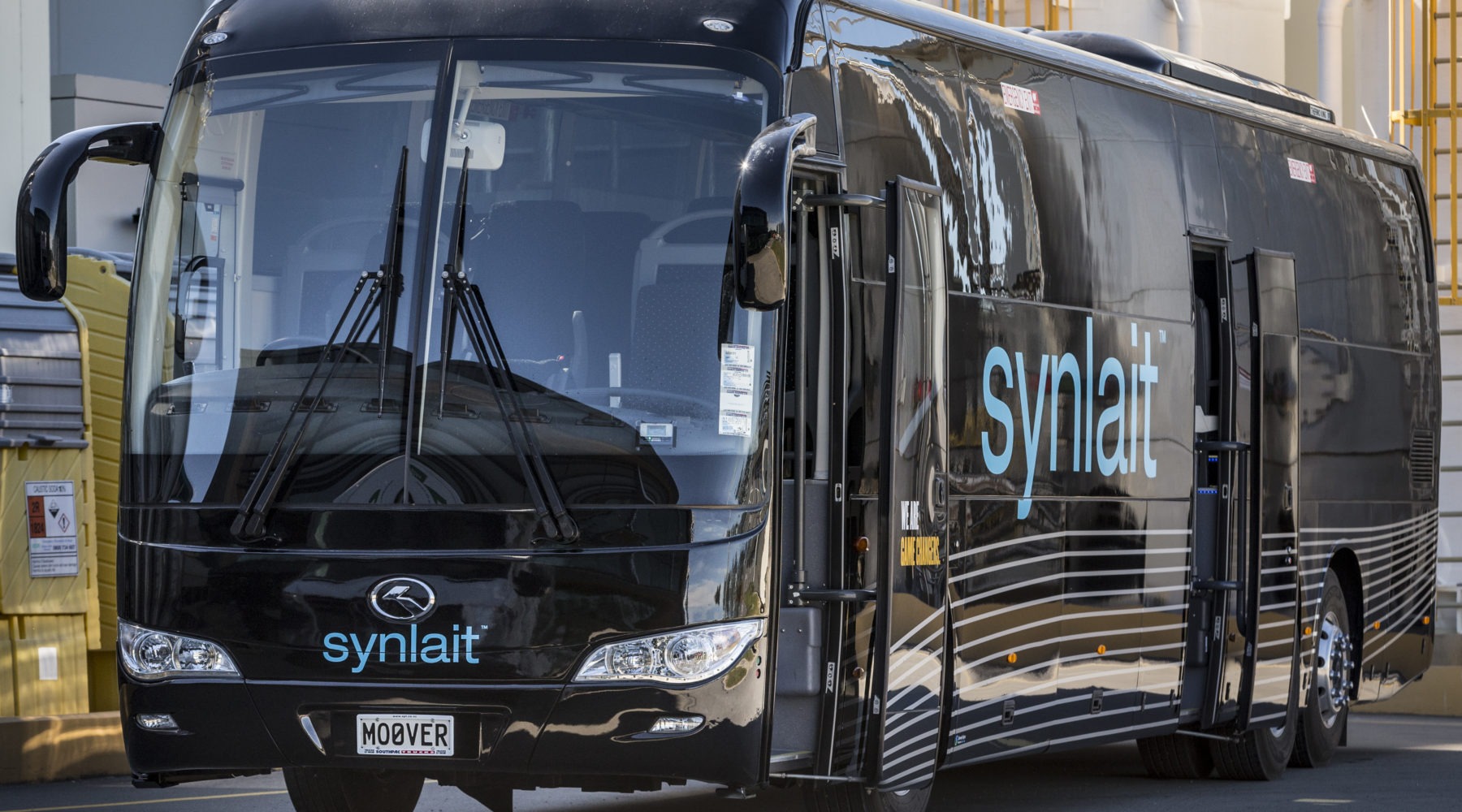 Synlait's shuttle service removes an estimated 360 cars a week from SH1 / Main South Road, one of Canterbury's busiest, improving road safety for everyone.
Introduced on 1 August, it provides employees with a free daily roundtrip shuttle service from Rolleston to Synlait's Dunsandel site several times in the morning and evening.
Today's arrival of a new 50-seat coach was welcomed by a crowd of excited employees and will replace a temporary coach, which has operated for the last three months.
"Everyone home safe, every day, is our number one priority. Our shuttle service supports this focus by reducing traffic on Main South Road (SH1) and also has a positive impact on the environment," said John Penno, Managing Director and CEO.
Located 50km south of Christchurch, Synlait has one of the largest integrated and most sophisticated infant formula production sites in the world.
"Many of our employees live in Christchurch, Rolleston and the wider Selwyn region. Initiatives like this improve road safety not just for our team, but for everyone on the road," said Mr Penno.
On average, 72 cars are removed from Main South Road throughout each weekday, particularly during peak morning and evening traffic times.
The environmental benefit* is estimated to be the equivalent of planting 1,255 trees, or eliminating 25 tonnes of carbon dioxide (CO2) emissions, a year.
Mr Penno pointed out the figures would increase as more employees took advantage of the shuttle service.
"Our team has almost doubled in the last two years to more than 430 people. With our next growth phase – a three year, $300 million programme – underway, we'll continue investing in our team," added Mr Penno.
Synlait's transport partner, Hilton Haulage, operates the shuttle service and oversaw the delivery of the new coach.
"It's a great coach that will make the roundtrip even more comfortable and relaxing for employees. It's been a rewarding project and is just one example of how we partner with our customers to achieve an exceptional result," said Scott Crampton, CEO of Hilton Haulage.
Synlait acknowledged support from both Hilton Haulage and Selwyn District Council made the shuttle service possible.
*Figures based on Monday – Friday shuttle usage since 1 August 2016. Average car emissions calculated as 206.649 CO2 grams / km (9 L / 100 km efficiency) and coach emission calculated as 885.7 CO2 grams / km (34 L / 100 km efficiency). Average tree absorption of CO2 calculated as 20.3 kg of CO2 / year.
ENDS
For more information, please contact:
Dan Walraven
Communications Manager, Synlait Milk
P:  +64 27 836 7532
E: daniel.walraven@synlait.com