19 September 2018
SYNLAIT NEARLY DOUBLES PROFIT IN TENTH YEAR OF OPERATIONS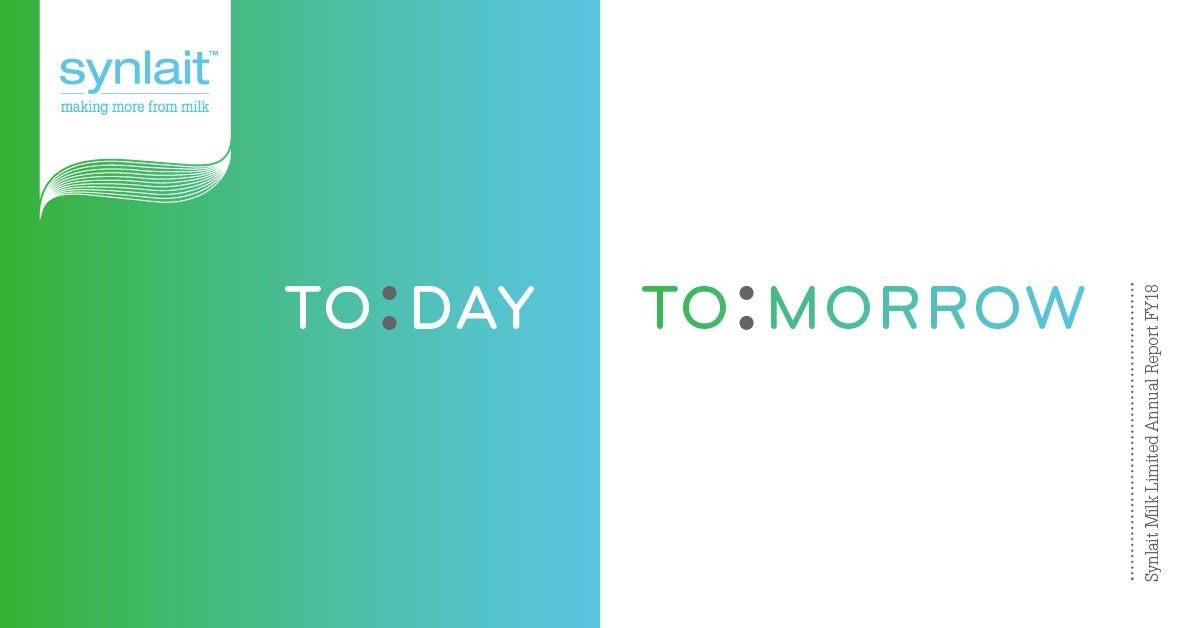 Synlait (NZX: SML; ASX: SM1) has reported a net after tax profit (NPAT) of $74.6 million, almost double the NPAT of $39.5 million announced for the same period last year.
The results for the financial year ending 31 July 2018 (FY18) were achieved in a period of large investment, and a renewed focus on the future.
An increase in finished infant formula sales helped to drive this profit, which was enabled by a number of investments in the blending and consumer packaging space.
"In November 2017 we completed our second Dunsandel wetmix kitchen, and the same month commissioned our Auckland blending and consumer packaging facility. Both these projects have allowed us to increase our finished infant formula capacity," said Graeme Milne, Chairman.
Synlait also announced today that it has entered into a conditional agreement to acquire selected Talbot Forest Cheese assets. This includes property, plant and equipment at a new 12,000 MT Temuka site, the consumer cheese brand (Talbot Forest Cheese) and customer relationships.
"The proposed acquisition builds on our existing portfolio of high-quality, flexible dairy manufacturing capabilities that can be tailored to meet customer needs," says Synlait's new CEO, Leon Clement.
FY18 has been a successful year for Synlait, with top line revenue increasing from $759 million to $879 million and bottom line profit after tax growing from $39.5 million to $74.6 million.
"That is a gratifying 16% growth in top line and an 89% growth in bottom line," says Mr Milne.
Synlait's final average total milk price for FY18 has been announced at $6.78 per kilogram of milk solids (kgMS). This includes a base milk price of $6.65 per kgMS (FY17 base milk price: $6.16 per kgMS) and seasonal and average value-added incentive payments of $0.13 per kgMS.
TEN YEARS OF OPERATIONS
"This has been a milestone year for Synlait as we grew both in capability and capacity. We're stepping up in terms of our performance, and we're looking ahead at where we want to be," says Mr Milne.
Building a world-class leadership team in FY18 saw the appointment of several new directors to Synlait's Senior Leadership Team. This included Hamish Reid being appointed to the new Director of Sustainability and Brand role and Deborah Marris joining as Director of Legal, Risk and Governance. The Director, Quality, Regulatory and Laboratory vacancy was also filled by Dr. Suzan Horst.
In August John Penno stepped down from the role of Synlait's CEO.
"John has been a wonderful leader for Synlait, taking the company from startup to a market capitalisation of over $2 billion in ten years. Fortunately, he will remain a part of the company in his capacity as a director on the Board," says Mr Milne.
"Synlait's new CEO, Leon Clement has stepped seamlessly into his shoes. Leon has more than 16 years' experience in the industry and is the ideal candidate to take Synlait into FY19 and beyond," he says.
Leon began his time at Synlait with a tour around the company's various sites.
"I'm increasingly impressed by the energy, openness and aspiration within the business. This is a really exciting time for me to join, and I really look forward to helping the company continue to grow in a positive and sustainable way for everyone," he says.
As part of a re-evaluation of its ambition, Synlait announced a number of bold sustainability goals at its annual Synlait Conference in June. These include a set of major new commitments under three pillars; Environment, People, and Enterprise.
"As well as responding to the increasing global demand for sustainable goods, we genuinely believe a profitable business has to be built on a robust foundation that supports economic, environmental and social outcomes," says Mr Clement.
One step toward this was the announcement that Synlait will not build another coal-fired boiler, and that Synlait Dunsandel's new Advanced Liquid Dairy Packaging facility would instead be built with an electrode boiler.
Synlait's Lead With Pride™ programme also received a boost under the new sustainability strategy by introducing greenhouse gas (GHG) emissions targets, as well as an extra incentive offered for those whose farms are palm kernel expeller (PKE) free.
"We want to achieve on-farm reduction of GHGs by 35% per kgMS, reduce water consumption by 20% per kgMS and reduce nitrogen loss by 45% by 2028," says Director of Sustainability and Brand, Hamish Reid.
"The best way for us to meet our on-farm sustainability targets is to encourage faster uptake of our Lead With Pride™ programme. We believe an increase in incentive payments will lead to many more of our farmers moving towards certification," says Mr Reid.
VALUE CREATED ON FARM
As mentioned above, Synlait confirmed that their total average milk price for the 2017 / 2018 dairy season is $6.78 per kgMS, consisting of a $6.65 per kgMS average base price and a seasonal and average value-added incentive payment of $0.13 per kgMS.
The forecast milk price for the current 2018 / 2019 season is now $6.75 kgMS.
This is in response to declining commodity prices putting pressure on our opening forecast of $7.00 kgMS, mitigated to some extent by a weakening New Zealand dollar. However, the forecast of $6.75 kgMS anticipates that there will be an improvement in commodity prices in the medium term.
"Our milk suppliers are a hugely important part of what we do here at Synlait, and we really appreciate the role they play in our success as a company," says Mr Clement.
"We're looking forward to partnering with other like-minded farmers in the Waikato when we begin operations there in 2019 / 2020, and we've been impressed by the positive responses we've had so far."
INGREDIENTS BUSINESS AND INFANT NUTRITION PARTNERSHIPS FLOURISH
Synlait's large and important ingredients business continues to focus on added value sectors and clients globally, with an emphasis on tailor-made production and customer service.
Improving year on year margin performance of Synlait's ingredients business also reflects greater plant throughput and these ongoing improvements will result in further operational efficiency gains in FY19.
During the past year Synlait's relationships with its customers have strengthened, and the company is proud to work closely with a portfolio of global infant nutrition customers.
Synlait's partnership with The a2 Milk Company™ (a2MC) has continued to grow and an extended supply agreement signed in July provides Synlait with a minimum five year term through to July 2023. Synlait will continue as the exclusive manufacturer of the a2MC's infant formula for the Australia/New Zealand and China markets.
"This agreement is really positive for both companies as it strengthens the relationship and provides certainty for all," says Mr Clement.
Synlait has been working to secure product registration in China for New Hope's Akara and Bright Dairy's Pure Canterbury brands. Both applications have been lodged with the State Administration for Market Regulation (SAMR – the replacement organisation for the China Food and Drug Administration) and it is expected these will be granted in due course.
The Munchkin Grass Fed™ infant formula registration is also currently progressing through the regulatory process with the U.S. Food and Drug Administration (FDA).
"We're committed to seeing this product succeed in the U.S., and we're working closely with Munchkin on this," says Mr Clement.
"The Grass Fed™ product is doing well in Australia, following its introduction into the nationwide supermarket chain Coles."
EVERYDAY CATEGORY GROWTH THROUGH FOUNDATIONAL PARTNERSHIP AND ACQUISITION
In FY18 Synlait announced its intention to move into a new category – Everyday Dairy.
Earlier in the year Synlait announced a partnership with Foodstuffs South Island (FSSI) to supply the cooperative with all of their private label fresh milk and cream from April 2019.
Synlait's construction of the Advanced Liquid Dairy Packaging facility in Dunsandel, which will produce the fresh milk and cream, remains on track.
As a further expansion into Everyday Dairy, Synlait has entered into a conditional agreement to acquire selected Talbot Forest Cheese assets.
"This acquisition enhances our current portfolio, and will cement Synlait as a company with high-quality, flexible dairy manufacturing capabilities that can be tailored to meet customer needs," says Mr Clement.
"We will be able to manufacture a variety of cheese products that complement our existing product portfolio, whilst at the same time further diversifying our revenue streams."
"The proposed acquisition contributes to our intention to grow within the Everyday Dairy category in New Zealand (which is a notable $2 billion market) and overseas," he says.
The investment is expected to be in the range of $30 – $40 million, which reflects incentives for various conditions to be met.
The proposed acquisition is structured in two parts and settlement is expected in August 2019, once aspects of the conditional agreement have been met. The initial ten-month period includes a commercial loan facility from Synlait for Talbot to complete a capital works programme and satisfy the conditions set out in the agreement.
Subject to the conditions being met, Synlait will assume management and operational control of Talbot on 1 August 2019.
INVESTING IN CAPABILITY AND CAPACITY WITH STRATEGIC CAPITAL WORKS
Synlait began a number of capital projects in FY18 to unlock opportunities and pursue profitable growth across categories.
"In November we completed our second wetmix kitchen in Dunsandel, and commissioned our Auckland blending and consumer packaging facility. This has allowed us to increase our finished infant formula capacity," says Mr Milne.
To continue that growth, Synlait purchased 28 hectares of land in Pokeno in February. Shortly afterwards the build of a new infant-capable manufacturing facility began on the Waikato site, and work began to recruit milk suppliers in the area.
"This is a $280 million commitment, but it will allow us to keep up with customer demand, whilst also eliminating our single-site risk," says Mr Milne.
Synlait Pokeno is scheduled to commission for the 2019 / 2020 milk season.
The build of the Advanced Liquid Dairy Packaging facility in Dunsandel was announced earlier in FY18 alongside the FSSI agreement. The facility is expected to cost $125 million and gives Synlait the foundation to explore other liquid milk product opportunities that utilise the innovation and flexibility offered by the plant.
"The plant is highly efficient and capable of producing many existing products, as well as product variants which are new and match emerging global trends," says Mr Milne.
In FY18 Synlait also announced an $18 million expansion to its Dunsandel lactoferrin facility which will double its lactoferrin capacity, as well as improve throughput.
"We committed to this expansion following a multi-year agreement for the supply of infant formula-grade lactoferrin with one of our multinational customers. We've also noticed growing demand for lactoferrin in formulations with our infant formula customers," says Mr Clement.
In March Synlait opened its Research and Development Centre in Palmerston North. The venture is a partnership with Massey University and FoodPilot, which is a part of the New Zealand Food Innovation Network.
"We've doubled our commitment to research and development, and we expect this to grow to 1.5% of revenue in the coming year," says Mr Clement.
"This would bring us in line with leading global food companies and with the opportunities we have to innovate throughout our manufacturing process, our R+D teams have an influential role in the future of Synlait and our product offerings."
A copy of Synlait's FY18 Annual Report and accompanying presentation can be found below.
For more information contact:
Dan Walraven
Communications Manager, Synlait Milk
P: +64 3 373 3069
E: daniel.walraven@synlait.com