21 March 2018
SYNLAIT ANNOUNCES RECORD HALF YEAR PROFIT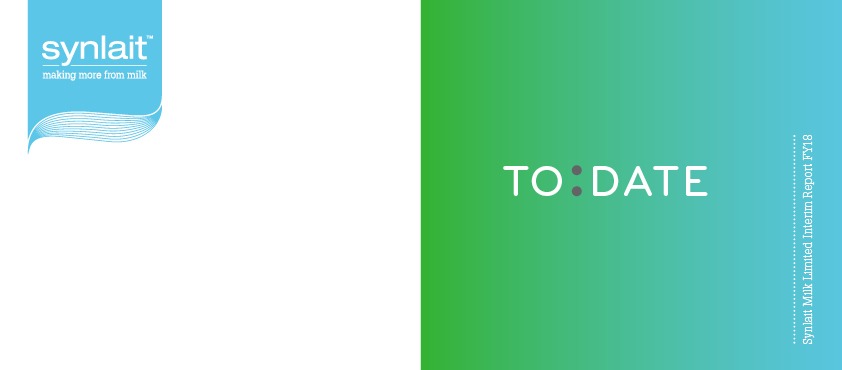 Synlait Milk (NZX: SML; ASX: SM1) has reported a half year net profit after tax (NPAT) of $40.7 million for the six months ending 31 January 2018.
This is compared to $10.6 million for the same period last year (H1 FY17).
Synlait's Managing Director and CEO, John Penno, says the strong earnings growth of $30.1 million has been driven by increases in manufacture and sales of our highest margin products, as well as improved margins and earlier sales of our ingredients products.
"The growth trajectory of canned infant formula has continued with total consumer packaged volumes almost tripling from the same period last year and up 36% on the second half of last year," he says.
"Our relationship with The a2 Milk Company™ continues to strengthen where we remain their exclusive manufacturer for the important Australia, New Zealand and China market."
"We have also renegotiated our supply agreements with New Hope Nutritionals and with Bright Dairy, which provides for four-fold volume growth over a five-year period. However, we don't expect this to impact sales until FY19," he says.
In the six months to 31 January 2018, Synlait has invested $34.5 million in capital expenditure throughout New Zealand. The major components of this were the Synlait Auckland blending and canning facility ($11.2 million) the new wetmix kitchen at Synlait Dunsandel ($18.4 million). Synlait also established a new research and development centre in Palmerston North.
"Both of these projects are critical for keeping up with customer demand, and give us the ability to expand on our infant formula business," says Mr Penno.
Staff growth can also be partly attributed to infant formula growth, with an increase of $3.5 million in employee costs.
"The increased employee spend also reflects the continued investment into capability for research and development, business development and leadership to support continuing growth and diversification," says Synlait's Chairman, Graeme Milne.
Synlait has appointed three new members to its Senior leadership team in H1 FY18. Dr. Suzan Horst will be Director of Quality, Regulatory and Laboratory services, Deborah Marris is General Counsel and Head of Commercial, and Hamish Reid is Chief Sustainability Officer and General Manager of Brand.
Synlait's cash flow generation of $204.3 million for the 12 months ended 31 January 2018 has fully funded the capital expenditure program and has enabled the reduction of debt to low levels.
Total Net Debt for H1 FY18 was $49.7 million, a substantial reduction from $147 million at the same time in FY17.
"This leaves the company well placed to fund our expansion plans. At Synlait Dunsandel we expect to spend $125 million on an advanced liquid dairy packaging facility, and at Synlait Pokeno we will spend $260 million to establish our new nutritional powder manufacturing facility," says Mr Milne.
Synlait entered into an agreement to buy land in Pokeno in February and is now proceeding to settlement, in accordance with the agreement, following satisfaction of all of the conditions.
"We are also ready to begin to develop new categories and are focusing on developing opportunities in everyday dairy," says Mr Penno.
Synlait's spend on research and development has grown from $2.25 million in FY16 to $4.75 million in FY17 and is forecast at $7 million in FY18.
"While our research and development investment is dwarfed by other companies, the highly targeted nature of our efforts are matched to the significant market opportunities we've identified. We will realise the value many times over with the returns we achieve."
"It's all part of the strategy designed to gain access to the highest returning categories, products, markets and customer segments in dairy," says Mr Penno.
For more information contact:
Dan Walraven
Communications Manager, Synlait Milk
P: +64 27 836 7532
E: daniel.walraven@synlait.com