29 November 2016
SHAREHOLDERS PLEASED WITH SYNLAIT'S STRONG FY16 PERFORMANCE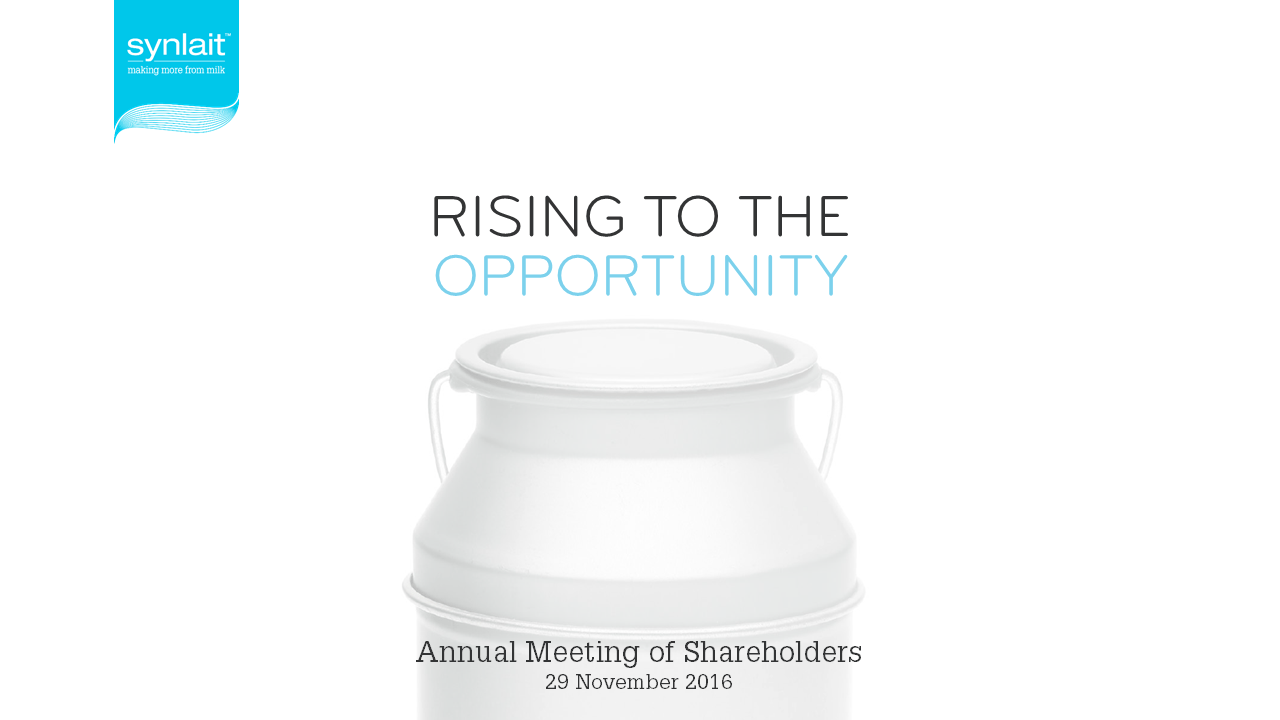 Synlait Milk's (NZX: SML; ASX: SM1) Annual Meeting of Shareholders today highlighted their record FY16 profit of $34.4 million showed their value added strategy is successful.
Held in Christchurch, the meeting commenced at 1pm and Synlait's Chairman Graeme Milne outlined how the company had grown rapidly and profitably since listing in July 2013.
"When we listed on NZX in 2013, we commenced a $250 million capital expansion programme to support our value added focus and growth strategy. The financial year ending 31 July (FY16) demonstrated the full benefit of this approach and delivered our strongest performance to date," said Mr Milne.
He also pointed out shareholder value had been created through the execution of Synlait's strategy, resulting in a total shareholder return (TSR) of 55% since the initial public offering in 2013.
"We remain a growth company and will continue investing our profit into the business to pursue profitable growth opportunities."
Synlait's new growth phase was launched in September alongside a pro-rata rights offer, which was completed in October and raised $97.6 million in new equity.
It also facilitated Synlait's dual listing on the Australian Securities Exchange (ASX) as a foreign-exempt issuer, commencing on 25 November 2016.
"Our new growth phase will see us invest approximately $300 million over three years to add more infant formula, consumer packaging and spray drying capacity, as well as value added cream capability and infrastructure requirements. The equity we raised in October will be used to pay existing debt and contribute towards this new capital expansion programme," said Mr Milne.
A key infrastructure requirement was to invest in an initial second site, which Mr Milne expected to be identified before the end of the 2017 financial year (FY17).
John Penno, Managing Director and CEO, discussed Synlait's record profit in FY16 being the result of an almost fourfold year on year increase in canned infant formula volumes from 4,300 metric tonnes (MT) to 16,000 MT.
"Our ingredients business performed well in FY16, but our canned infant formula business played a major role and we expect it will continue to do so as our most established value added part of our company," said Mr Penno.
"We expect the proposed Chinese regulations will likely moderate canned infant formula growth in FY17, and therefore we expect only modest growth in our FY17 earnings over FY16."
Mr Penno outlined to shareholders that Synlait will continue investing in growth opportunities for new and existing products, customer development and internal systems and processes.
"Investment in customer and market development will also support volume growth to reduce reliance upon the China market. Combined with a focus on developing value added cream and adult nutrition opportunities for the business, we're also focusing on making more from milk beyond infant formula."
Earlier today Synlait announced an increase to their forecast milk price from $5.00 kgMS to $6.00 kgMS.
"We've responded to shift of prices in the global dairy market. Our increased forecast milk price will be well received by our 200 Canterbury milk suppliers, who will now have a higher cash flow than they had planned for at this stage in the season," said Mr Penno.
A change in Synlait's Board of Directors was announced with the appointment of Ms Min Ben as the fourth Bright Dairy-appointed Director. Ms Ben joined Bright Dairy in 2001 and is currently their PR Director. Ms Ben replaces Ms Li Ke, who resigned from Bright Dairy to pursue other interests in September 2016.
Shareholders welcomed Ms Ben and also passed three formal resolutions at the meeting, this included:
1)    the Board be authorised to determine the auditor's fees and expenses for the 2017 financial year.
2)    Sam Knowles be re-elected as a Director.
3)    the annual fee for all Directors be $70,000, except for the annual fees of each of the two Committee Chairs which will be $82,000 and the Chairman of the Board which will be $130,000. All these increases apply from 1 April 2017.
Directors and shareholders engaged in a well-rounded discussion at the meeting about trends in Director remuneration and company reporting.
The Board has determined in accordance with NZX Listing Rule 3.3.3(a) that each of the following Directors is an Independent Director:
·         Graeme Milne
·         Bill Roest; and
·         Sam Knowles
ENDS
For more information, visit www.synlait.com or contact:
Dan Walraven
Communications Manager, Synlait Milk
P:  +64 27 836 7532
E: daniel.walraven@synlait.com