12 September 2019
DELIVER. INVEST. CLARIFY.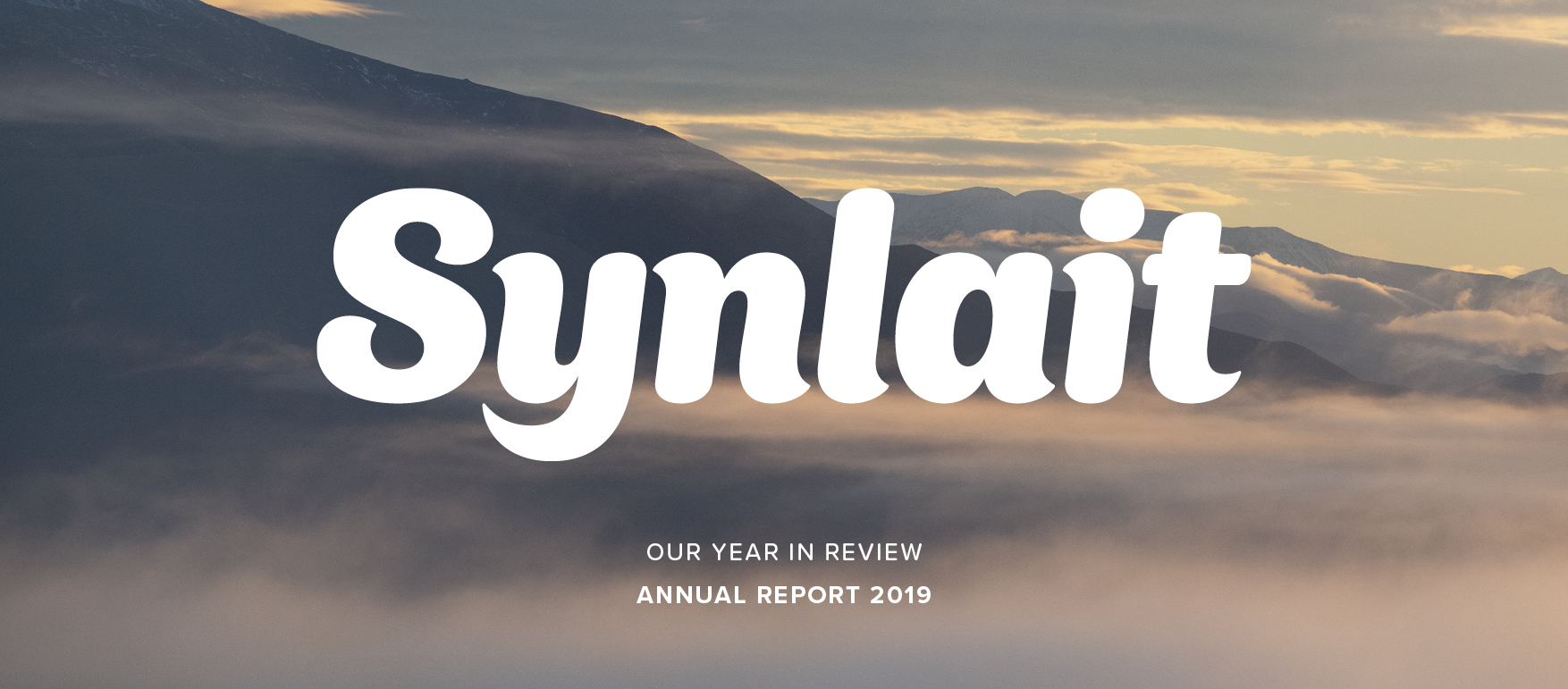 Synlait today announced its financial result for the 12 months ended 31 July 2019.
Synlait Chair Graeme Milne commented: "The combination of an increase in profit to $82.2 million, plus a total average milk price of $6.58 per kgMS for the 2018/2019 season, achieved off a revenue that exceeded $1 billion for the first time, is a very pleasing result to be able to announce for Synlait."
Synlait CEO Leon Clement commented: "Three things stand out for me in terms of our performance. Firstly, we delivered a strong financial result, supported our customers to grow and create value, while improving our operational efficiency."
"Secondly, we invested in our future by bringing on new facilities and people capability that position us well for continued growth."
"Finally, we clarified and focussed our direction with a new purpose, ambition and strategy, that aligns our people and stakeholders to a common goal."
"In summary, our team delivered a strong result, invested in our future, and clarified our direction."
Delivering results
·         Revenue exceeded $1 billion for the first time, increasing 17% to $1,024.3 million;
·         Net profit increased 10% to $82.2 million;
·         Operating cashflow increased 39% to $136.7 million;
·         Sales volumes increased 21,093 MT or 16% to 149,730 MT[1];
·         Consumer packaged infant formula volumes continued to grow, up 21% to 42,907 MT; and
·         Average milk price of $6.58 per kgMS for the 2018/2019 season, made up of a base milk price of $6.40 and an additional $0.18 in incentive payments.
Synlait's financial result was characterised by ongoing growth in infant nutrition volumes, strong efficiency gains (signalled at half year), and an expansion in lactoferrin capacity and resulting sales. These three factors help contribute to an increase in total gross profit of 12%.
Expenditure lifted in line with this growth, but importantly much of this increased investment was in areas that support future opportunities. Notably, operating cashflow increased 39% to $136.7 million, reflecting the strong underlying performance of the business and ability to fund our investment programme.
Synlait's financial performance was supported by our sustainability agenda as we progressed commitments made last year.
New Zealand's first large-scale electrode boiler was switched on at Synlait Dunsandel in March 2019. This was a key sustainability milestone for our team as we aim to radically reduce our carbon foot-print by 2028.
Culture and community are also critical to building a healthier Synlait for our people to work. We launched Whakapuāwai, our latest sustainability commitment in June, which gives employees a unique opportunity to engage with their communities, milk suppliers and iwi to make a personal contribution to environmental restoration with native trees.
A record 43 farms were Lead With Pride™ certified, reaffirming our commitment to healthier farming practices. A new palm kernel expeller (PKE) free incentive was also taken up by 63 milk suppliers.
Investing for the future
Profits increased and operational efficiencies improved while we made significant capital and people investments to set us up for future growth. The strong balance sheet that emerged at the end of FY18 provided a range of opportunities for investment which were progressed during FY19. Growth projects delivered in FY19 include:
·         the $260 million build of Synlait's new infant-capable manufacturing facility in Pokeno, which is close to commissioning. We welcomed 56 milk suppliers, meeting volume targets, and 77 employees who bring the required capabilities to run the factory;
·         the $18.9 million expansion to lactoferrin facility was completed on time and budget, doubling manufacturing capacity;
·         the $134 million advanced liquid dairy packaging facility at Dunsandel was designed, built and commissioned within 18 months, and began supplying liquid milk to our inaugural customer, Foodstuffs South Island in April; and
·         the Talbot Forest Cheese acquisition was completed 1 August 2019, again enhancing and complementing our existing categories.
To support this growth, it was a record year for new employees, with 218 people joining Synlait.
Leon Clement commented: "The pace and quality at which our team delivered these four major growth projects, while continuing to support our current customers to grow, and improve existing operational efficiencies is truly impressive."
"Not only have we built new facilities, but we have brought in capable, experienced and high-energy people to run them. Building strong teams across all our Synlait sites, and ensuring we have the right balance of skills has been critical."
New investment announced today: Dry Store 4
As part of our strategy to build a world class value chain, our latest investment for the future is Dry Store 4 an additional 30,000sqm warehouse at Synlait Dunsandel, which will streamline logistic activities while bringing offsite South Island storage back to this site, supporting future growth and generating strong supply chain efficiencies. It will also enable greater control over our inventories, traceability and value add services, and improve our sustainability footprint and result in shorter lead times for our customers.
The project is expected to cost $32 million and delivers a strong investment return based on the planned efficiency gains. The warehouse will create 20 new jobs and is expected to be completed in September 2020. Total usable warehouse space at Dunsandel will increase to 55,000sqm on completion.
CLARIFYING OUR DIRECTION: HEART, HEAD AND HANDS
At the annual meeting in November our new purpose and brand identity was launched: Doing milk differently for a healthier world.
To support this, in the second half of FY19 we delivered on our promise to define Synlait's focus and purpose for shareholders and staff and we have launched: Heart, Head and Hands, a framework that helps provide clarity for our people on why we exist, what we are aiming for, and where and how we will achieve it.
Heart, Head and Hands now communicates our Purpose, Ambition and Strategy and underpins everything we do. It will take Synlait to the next phase growth.
POKENO UPDATE
Following our update to the market last month, a date for the Supreme Court oral hearing has been set for Monday 21 October 2019.
Pokeno is a world class facility being run by an engaged and highly capable team, backed by some of the Waikato's best farmers, and commissioning is on-track for this month. We look forward to updating you on this significant milestone.
We acknowledge this issue has created uncertainty for shareholders and milk suppliers but are committed to ensuring a reasonable outcome is reached. Synlait has made a reasonable settlement offer and we are working towards one of two outcomes which we believe are in the best interests of all, a reasonable settlement offer, or a court outcome.
We are comfortable that our legal exposure is not substantial. Synlait determined, and the auditors agreed, that no provision is required under the accounting standards in its financial statements.
A full update on the timeline in respect of Pokeno and next steps can be found in the corresponding Investor Presentation.
WHAT TO EXPECT FROM US IN 2020
Based on the diversification of our business, and the way we create value, we are changing the way we provide guidance. We expect our FY20 profits to continue to grow, with the rate of profitability increasing at least at a similar rate to that of FY19 over FY18. Our expected earnings growth will be driven by:
·         continuation of strong momentum from the second half of FY19 where we sold 24,932 MT of consumer packaged infant formula;
·         a full year of operation of the advanced liquid dairy packaging facility and the first sales of long-life products in the second half of FY20;
·         continued progression of our Everyday Dairy strategy;
·         a full year of operation of the expanded lactoferrin facility; and
·         a contribution from Synlait Pokeno, which will be commissioned shortly.
[1] Excluding fresh milk
Further information can be found in the documents below.
For more information about Synlait contact:
Jessica Thorn
Senior Communications Advisor, Synlait Milk
P: +64 3 373 3353
E: Jessica.thorn@synlait.com